Australia
1 Year Term Deposit Rates
Provider
Rate

2.75%


1 year
Apply
Mar 2019

Bank of Melbourne 1 Year Term Deposit

The current interest rate for this term deposit product is for a 1 year period and applies to deposit amounts or balances ranging from $250,000 to $5,000,000. Interest paid at maturity.

+Follow

2.45%


1 year
Apply
Nov 2018

2.45%


1 year
Apply
Jun 2018

St George Bank 1 Year Term Deposit

The following interest rate applies for a 1 year / 12 month term and with interest paid maturity. Deposit amounts for this rate range from $5000 to $5,000,000. Other interest options available include interest paid monthly or half yearly.

+Follow

2.45%


1 year
Apply
Jun 2018

UBank 1 Year Term Deposit

The interest rate for this Ubank term deposit account is for a 12 month / 1 year period and may include a .10% loyalty bonus when you rollover 100% of your term deposit. It also requires a minimum $1000.

+Follow

2.05%


1 year
Apply
Aug 2019

2.05%


1 Year
Apply
Aug 2019

Suncorp Bank 1 Year Term Deposit

Interest Rate for this Suncorp deposit product depends on amount deposited and is for a 12 month / 1 year term. Interest is paid at maturity with minimum investment being $50,000.

+Follow

2.00%


1 year
Apply
Aug 2019

1.95%


1 year
Apply
Aug 2019

1.80%


1 year
Apply
Aug 2019

AustralianSuper 1 Year Term Deposit

The rate is applicable to the AustralianSuper member direct investment option product for its term deposit product. The applicable term in 365 days (% pa). You can invest in this option if you are an AustralianSuper member and have more than $10,000 in the account. (Note it may not be covered by the Government guarantee). Rate ranges from 3.67% to 3.90%

+Follow

1.78% to 2.00%


1 year
Apply
Aug 2019
A 1 year deposit or commonly also known as a 360 day or 12 month deposit is one of the most popular types of deposit products in Australia along with the six month deposit. It is a medium term maturity product.
Interest accumulated through a 1 year deposits is paid monthly, quarterly, annualy or semi-annually as per the following example from a local Australian bank.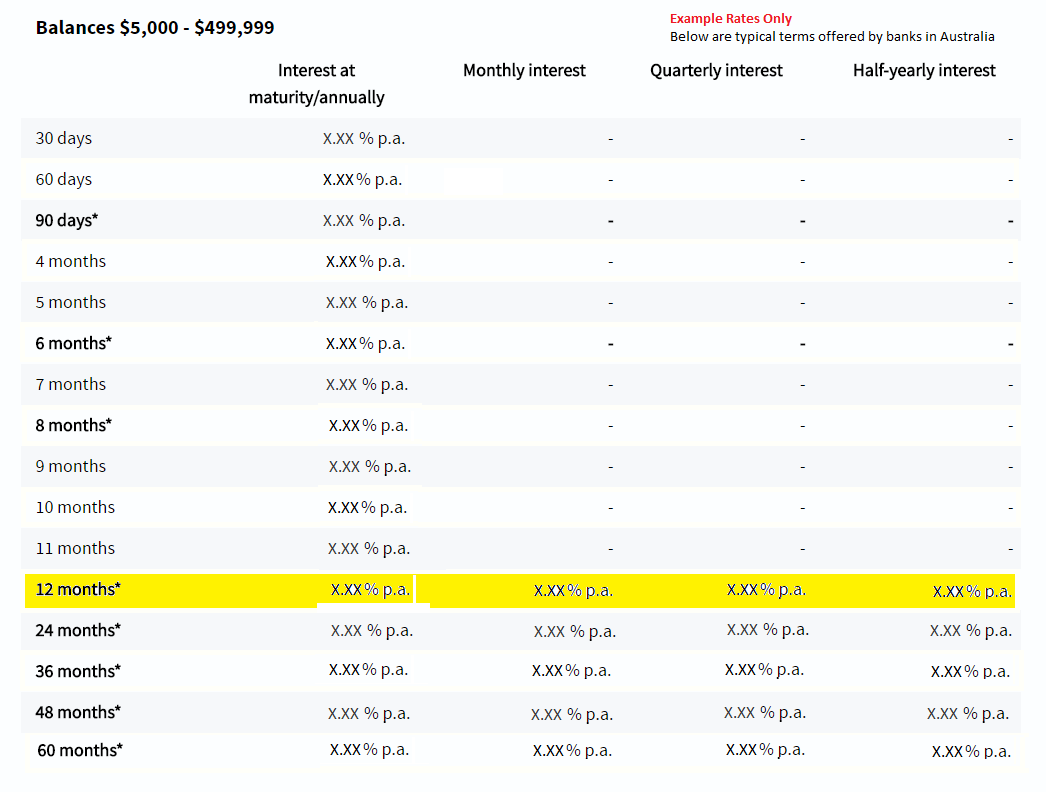 Data sourced from the RBA from banks in Australia indicates that 1yr rates peaked at around 16% in the late 80s but have fallen significantly over the last 2 decades.