Australia
1 Month Term Deposit Rates
Provider
Rate

1.55%


1 month
Apply
Aug 2019

Bank SA 1 Month Term Deposit

The interest rates applicable for this 1 month term product is for interest paid at maturity for $250,000 to $5,000,000.

Please Note: Other deposit products include options for interest paid monthly, half yearly and annually.

+Follow

1.50%


1 month
Apply
Jun 2018

Bank of Melbourne 1 Month Term Deposit

The current interest rate for this term deposit product is for a 1 year period and applies to deposit amounts or balances ranging from $250,000 to $5,000,000. Interest paid at maturity.

+Follow

1.50%


1 month
Apply
Nov 2018

Bankwest 1 Month Term Deposit

The 12 month / 1 year term deposit product from Bankwest is titled 'Gold Term Deposit' which you can deposit from $5,000 up to $2 million. This interest rate applies to the interest paid at maturity. Monthly, quarterly and half yearly are also available.

+Follow

1.50%


1 month
Apply
Sep 2019

1.50%


1 Month
Apply
Jun 2018

1.40%


1 Month
Apply
Aug 2019

1.40%


1 month
Apply
Jun 2019

1.25%


1 Month
Apply
Aug 2019

1.15%


1 Month
Apply
Sep 2019

NAB 1 Month Term Deposit

This per annum Interest Rate is applicable for a deposit balance of $100,000 and $499,999 over 30 days / one month with interest calculated at maturity.

+Follow

1.10%


1 month
Apply
Aug 2019
In Australia, 30 day also known as 1 month term deposits (TD) are one of the shortest maturities products available from banks and credit union for interest bearing deposits. In contrast to savings accounts, 30 days like other TD products cannot be added to but are much closer to the savings rate than longer maturities like 5 year TDs.
Interest from 1 Month deposits are paid monthly as per the following example from a large bank.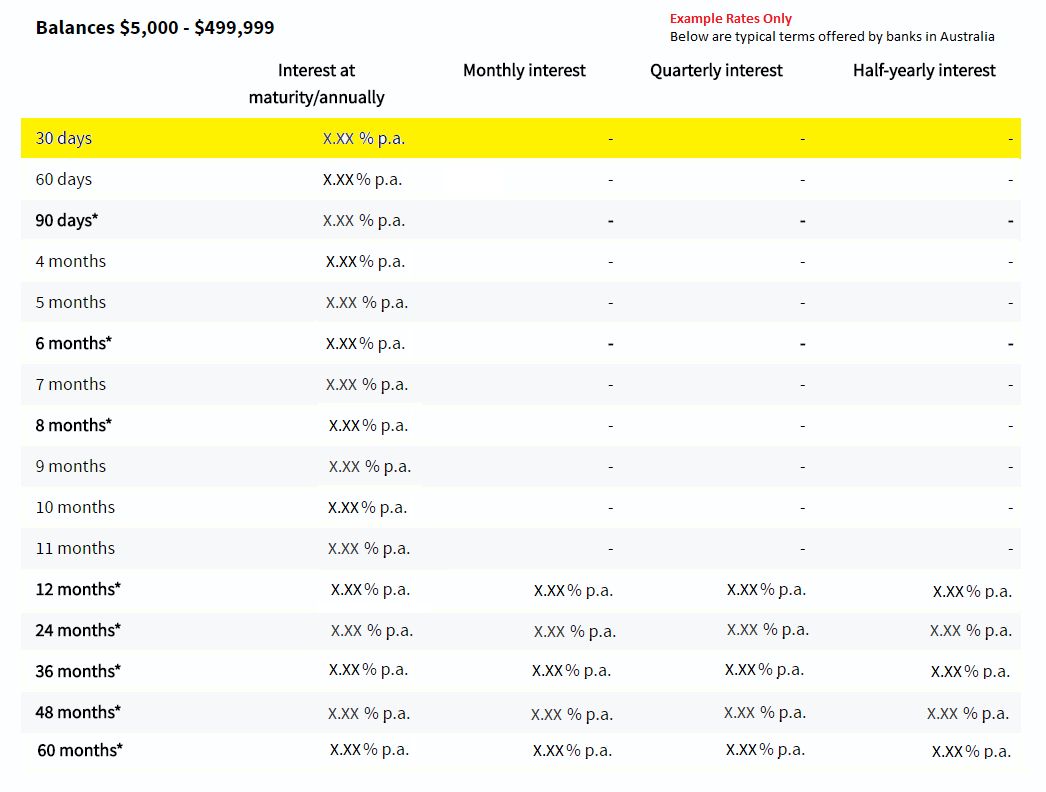 Data aggregated from the RBA indicates that 1 month rates have also fallen over time especially compared to the 1980s.