Australia
6 Month Term Deposit Rates
Provider
Rate

3.50%


6 MONTH
Apply
Apr 2023

Bank SA 6 Month Term Deposit

The interest rates applicable for this 6 month term product is for interest paid at maturity for $250,000 to $5,000,000.

Please Note: Other deposit products include options for interest paid monthly, half yearly and annually.

+Follow

2.15%


6 month
Apply
Jun 2018

Bank of Melbourne 6 Month Term Deposit

The current interest rate for this term deposit product is for a 1 year period and applies to deposit amounts or balances ranging from $250,000 to $5,000,000. Interest paid at maturity.

+Follow

2.15%


6 month
Apply
Nov 2018

2.15%


6 Month
Apply
Jun 2018

2.05%


6 Month
Apply
Aug 2019

2.05%


6 Month
Apply
Aug 2019

2.00%


6 Month
Apply
Aug 2019

BOQ 6 Month Term Deposit

BOQ Premier Investment account is 6 month term deposit account with no account maintenance or transcation fees. The minimum investment is of $1000 to start up


+Follow

1.90%


6 month
Apply
Aug 2019

1.82% to 2.20%


6 month
Apply
Aug 2019

1.80%


6 month
Apply
Aug 2019
The 6 month TD product is a popular offering provided for retail customers from banks. Considered a short term product, it is heavily influenced by RBA decision directions.
Below shows the interest payment options from a large national bank in Australia.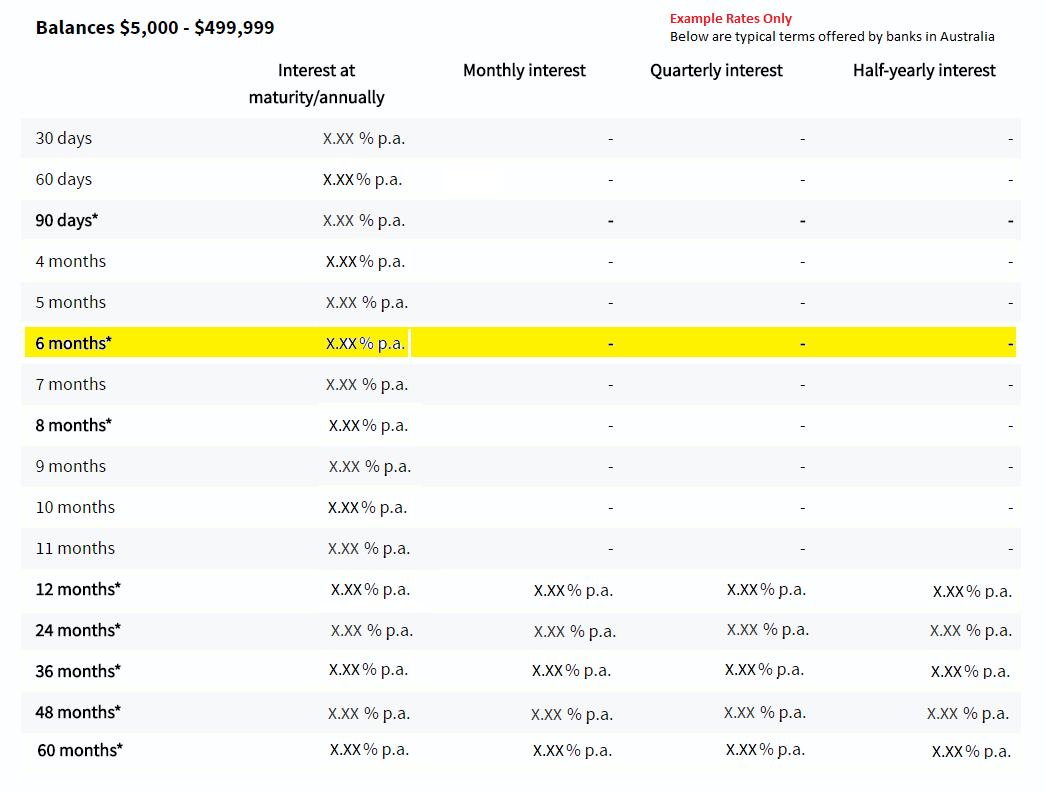 For such a short term rate it peaked at over 16% in 1988/1989 falling to about 2% in 2016.