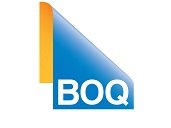 BOQ
BOQ Interest Rates
Bank of Queensland (BOQ) personal banking products for its retail customers include everyday bank accounts, savings accounts, term deposits and trading. In addition it also includes finance products such as credit cards, personal loans, home loans as well as insurance, SMSF and travel money products.
BOQ Overview
Bank of Queensland, also branded as BOQ is an Australian bank which operates throughout Australia. While it is not considered one of the 'big four' banks of Australia, as at 31 August 2010 it had a total of 255 branches nationally with 103 located outside the state of Queensland. BOQ has origin... read more
BOQ Discussion Activity
Savings
Q: Do you offer lottery linked deposit accounts?